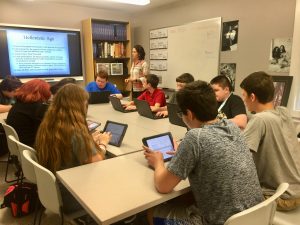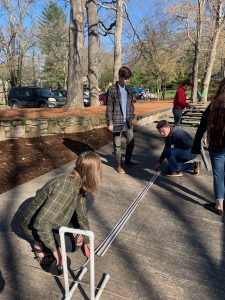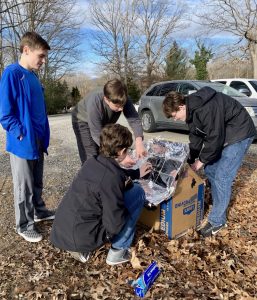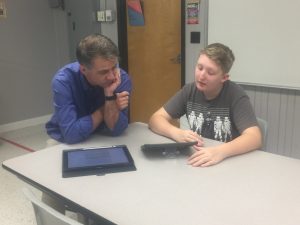 LEARNING
Each classroom at Haywood Early College has its own style and student agency plays an important role in that.  Our faculty personalizes learning for each student through proven best practices and working with varied student learning styles.  Blended learning and flex learning are broadly used in math classes.  English students focus on complex texts, discussing those texts through seminar, and producing strong, analytical essays.  History students build their understanding of the curriculum through practical engagement.  Their understanding of historical events is shaped through reliance on primary sources as the main text, using secondary sources to buttress their knowledge.  Our science classes focus on hands-on learning with an emphasis on labs and collaboration projects.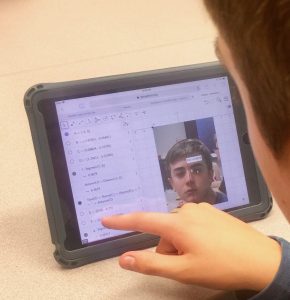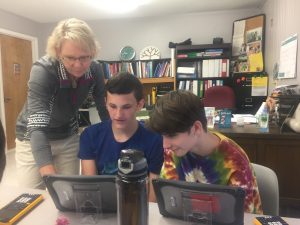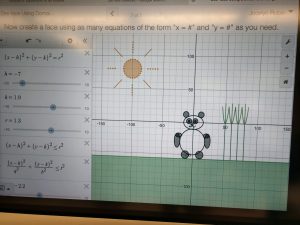 TECHNOLOGY
Haywood Early College utilizes Apple products to capitalize on the innovative teaching and learning within our school.  All faculty members are Apple Teacher Certified and use MacBook Airs and iPad Pros to create their lessons, student assignments, and even to write their own interactive textbooks through iBooks.  All students are issued an iPad that can be used at school and at home during their time with us.  We have created our own App Portal that allows students to download apps we use.  Within the past two years, we have envisioned and implemented an internal ecosystem that allows us to increase student engagement and personalized instruction.
Walk into any class, and you will see a student mirroring their screen on the Apple TV.  They might be sharing their textual annotations in Notability; presenting their Keynote project on a work, historical period, scientific idea or mathematical concept; designing infographics in Pages; creating a documentary or project in iMovie; or working in a teacher-created iBook.  Students use their iPads and Notability to engage with texts actively, something that was never possible with paper texts.  Actively engaging with texts is proven to elevate students' engagement and critical thinking, and apps such as iMovie, Keynote, and Pages allow students to take their learning and synthesize it into their own products.  These are not the school projects of old, made of poster board and styrofoam.  We believe these projects are preparing our students to be thinkers, designers, and communicators on the world stage.  At Haywood Early College, students build traditional reading, writing, and problem solving skills, and then they apply those schools in fresh ways to topics that they choose using whatever tools work best for their needs, in the style of true innovators.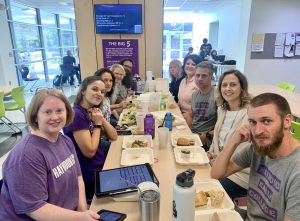 COLLABORATION
Our faculty seeks out opportunities for collaboration with each other to help build a dense learning environment where students cover the same phenomenon from quite different perspectives.  Covering the Great Depression in a history class is typical.  Timing it with biology to show epigenetics in action – how the Great Depression caused widespread changes in diet that reverberated across generations – is not.  At times, math teachers and classes have provided technical assistance with statistical analysis to students writing research papers.  Math teachers have found inspiration in having their classes focus their number crunching on topics from other classes, whether it is estimating the volume of the Grand Canyon or conducting a statistical analysis of famine.  Like a prism revealing the full spectrum of light, helping our students see how any subject can be analyzed through many lenses serves as a foundational goal of Haywood Early College.
HIGH SCHOOL
28 credits needed for High School Diploma
HEC teaches the four core course areas: English, Math, History, and Science
High School Electives: Chemistry, Global Studies, Seminar, Yearbook, and Math Lab
Honors-level high school courses
Innovative, student-centered teaching
Non-traditional schedule
Hands-on, problem solving instruction
1:1 iPad Initiative
ACT Prep
Assistance with navigating college and how to utilize college support systems
College application and financial aid support
College placement exam preparation
COLLEGE
Associate in Arts (AA)/Associate in Science (AS) – maximum of 61 hours

Associate in Arts – intending to pursue a degree in psychology, communication, economics, public service or education
Associate in Science – intending to pursue a degree in science, mathematics, engineering or technology

4 or 5 year program depending on student progress
College courses are taught by HCC instructors
Students attend some designated early college sections and some traditional sections with non-HEC students
College courses begin freshman year
Some college courses earn high school credits required for high school graduation (dual credits)